Marissa Mayer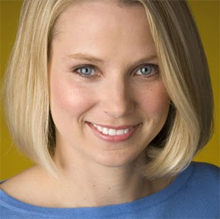 Mayer was born in Wausau, Wisconsin, the daughter of Margaret Mayer, an art teacher of
Finnish
descent, and Michael Mayer, an environmental engineer who worked for water companies. After her 1993 graduation from
Wausau West High School
, Mayer was selected by
Tommy Thompson
, then the
Governor of Wisconsin
, as one of the state's two delegates to attend the
National Youth Science Camp
in West Virginia.
Mayer graduated with honors from
Stanford University
with a
B.S.
in
symbolic systems
and an
M.S.
in
computer science
. For both degrees, her specialization was in
artificial intelligence
. In 2009, the
Illinois Institute of Technology
granted Mayer an
honoris causa
doctorate degree in recognition of her work in the field of
search
.
Career Mayer joined
Google
in 1999 as employee number 20 and was the company's first female engineer. During her 13 years with the company, she was an
engineer
,
designer
,
product manager
and
executive
. Mayer held key roles in
Google Search
,
Google Images
,
Google News
,
Google Maps
,
Google Books
,
Google Product Search
,
Google Toolbar
,
iGoogle
and
Gmail
. She also oversaw the layout of Google's well-known, unadorned search homepage. In her final years with Google, she was Vice President of Local, Maps, and Location Services and, before that, vice president of search products and user experience.
Prior to joining Google, Mayer had completed internships at
SRI International
in
Menlo Park, California
and the
UBS
research lab Ubilab in
Zurich
, Switzerland.
On July 16, 2012, Mayer was appointed President and CEO of
Yahoo!
, effective the following day. She is also a member of the company's board of directors.
In 2013, Mayer ranked 32 in the
Forbes Magazine's List of The World's 100 Most Powerful Women
. Also in 2013, Mayer became the first woman listed as number one on
Fortune
magazine's annual list of the top 40 business stars under 40 years old.
In an effort to simplify the bureaucratic process and "make the culture the best version of itself," Mayer launched a new online program called PB&J. PB&J collects employee complaints and votes on problems in the office; if a problem generates at least 50 votes online management automatically looks into it.
In February 2013, Mayer oversaw a major personnel policy change at Yahoo! that required all remote-working employees to convert to in-office roles. Having worked from home toward the end of her pregnancy, Mayer returned to work after giving birth to a boy, and had a nursery built next to her office suite—Mayer was consequently criticised for the
telecommuting
ban.
In April 2013, Mayer changed Yahoo's
maternity leave
policy, lengthening its time allowance and providing a cash bonus to parents. CNN noted this was in line with other
Silicon Valley
companies, such as
Facebook
and Google.
On May 20, 2013, Mayer led Yahoo! to acquire
Tumblr
in a 1.1 billion dollar acquisition. The acquisition was just one in a series of major purchases that occurred since Mayer became the CEO of the company. In July 2013, Yahoo! reported a fall in revenues, but a rise in profits compared with the same period in the previous year. Reaction on Wall Street was muted, with shares falling 1.7%. In September 2013, it was reported that the stock price of Yahoo! had doubled over the 14 months since Mayer's appointment.
In November of 2013, Mayer created more HR controversy with a new policy called the 'Quarterly Performance Review' at Yahoo! that implemented a forced bell curve ranking. Managers are forced to rank employees on a bell curve, with some designations titled "Occasionally Misses" and "Misses," and those employees at the low end of the curve are fired. Mayer denies that the rankings are forced, and are merely guidelines on the bell curve process. Many employees disagree, saying that managers are viewing them as mandatory.
Boards and honors As well as sitting on the boards of directors of
Walmart
,
Jawbone
and
Yahoo!
Mayer also sits on several non-profit boards such as
Cooper–Hewitt, National Design Museum
,
New York City Ballet
,
San Francisco Ballet
and
San Francisco Museum of Modern Art
.
Mayer actively invests in technology companies, including crowd-sourced design retailer
Minted
, live video platform
Airtime
, and mobile payments processor
Square
.
Mayer was named to
Fortune
magazine's annual list of America's
50 Most Powerful Women in Business
in 2008, 2009, 2010, 2011, 2012 and 2013 with ranks at 50, 44, 42, 38, 14 and 8 respectively. In 2008, at age 33, she was the youngest woman ever listed. Mayer was named one of
Glamour Magazine
's Women of the Year in 2009.
She was named to
Forbes Magazine's List of The World's 100 Most Powerful Women
in 2012 and 2013 with ranks at 20 and 32 respectively.
She was named to
Time 100
in 2013. Also in 2013, Mayer became the first CEO of a Fortune 500 company to have a spread in the September issue in Vogue Magazine. That same year, Mayer became the first woman listed as number one on
Fortune
magazine's annual list of the top 40 business stars under 40 years old.
In 2013, Mayer made Fortune Magazine history as the only person to make all three Businessperson of the Year list (No. 10), Fortune's Most Powerful Women rankings (at No. 8), and 40 Under 40. (No. 1) at the same time.
Personal life Mayer married lawyer and investor Zachary Bogue on December 12, 2009. On the day Yahoo! announced her hiring, Mayer revealed that she was pregnant. Mayer gave birth to a baby boy on September 30, 2012. Although she asked for suggestions via
social media
, the name Macallister was eventually chosen for her baby's name from an existing list.
Mayer is
Lutheran
. She has stated her priorities as being, "God, family and Yahoo!; in that order," in reference to the famous "Your God, your family and the
Green Bay Packers
" quote of Packers head coach
Vince Lombardi
. Marissa Mayer lives in the Four Seasons, San Francisco.
Courtasy of Wikipedia http://en.wikipedia.org/wiki/Marissa_Mayer
return to (s)Heros Profiles
---