Sally Ride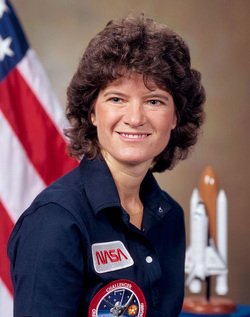 Sally Kristen Ride
(May 26, 1951 – July 23, 2012) was an American physicist and astronaut. Ride joined NASA in 1978 and, at the age of 32, became the first American woman in space. She left NASA in 1987 to work at Stanford University's Center for International Security and Arms Control, and served on the committees that investigated the two American space shuttle disasters (
Challenger
and
Columbia
), becoming the only person to serve on both panels. She founded a company, Sally Ride Science, in 2001, and co-authored six children's science books with her life partner of 27 years, Tam O'Shaughnessy. Ride remains the youngest American astronaut to be launched into space.
Ride was one of 8,000 people who answered an advertisement in the Stanford student newspaper seeking applicants for the
space program
. She was chosen to join
NASA
in 1978. During her career, Ride served as the ground-based
capsule communicator
(CapCom) for the second and third space shuttle flights (
STS-2
and
STS-3
) and helped develop the space shuttle's
robot arm
.
Prior to her first space flight, she was subject to media attention due to her gender. During a press conference, she was asked questions like, "Will the flight affect your reproductive organs?" and "Do you weep when things go wrong on the job?" Despite this and the historical significance of the mission, Ride insisted that she saw herself in only one way—as an astronaut. On June 18, 1983, she became the first American woman in space as a crew member on
space shuttle Challenger
for
STS-7
. She was preceded by two
Soviet
women,
Valentina Tereshkova
in 1963 and
Svetlana Savitskaya
in 1982. The five-person crew of the STS-7 mission deployed two communications satellites and conducted pharmaceutical experiments. Ride was the first woman to use the robot arm in space and the first to use the arm to retrieve a
satellite
.
Her second space flight was in 1984, also on board the
Challenger
. She spent a total of more than 343 hours in space. Ride, who had completed eight months of training for her third flight (
STS-61-M
, a
TDRS
deployment mission) when the
space shuttle Challenger disaster
occurred, was named to the
Rogers Commission
(the presidential commission investigating the accident) and headed its subcommittee on operations. Following the investigation, Ride was assigned to NASA headquarters in
Washington, D.C.
, where she led NASA's first
strategic planning
effort, authored a report entitled "
NASA Leadership and America's Future in Space
" and founded NASA's Office of Exploration.
Ride received numerous awards, including the National Space Society's von Braun Award, the Lindbergh Eagle, and the NCAA's Theodore Roosevelt Award. She was inducted into the National Women's Hall of Fame and the
Astronaut Hall of Fame
and was awarded the NASA Space Flight Medal twice. Ride was the only person to serve on both of the panels investigating shuttle accidents (those for the
Challenger
accident and the
Columbia
disaster). Two elementary schools in the United States are named after her: Sally K. Ride Elementary School in The Woodlands, Texas, and Sally K. Ride Elementary School in Germantown, Maryland.
In 1994, Ride received the Samuel S. Beard Award for Greatest Public Service by an Individual 35 Years or Under, an award given out annually by Jefferson Awards.
On December 6, 2006, California Governor Arnold Schwarzenegger and First Lady Maria Shriver inducted Ride into the California Hall of Fame at the
California Museum for History, Women, and the Arts
.
Ride directed public outreach and educational programs for NASA's GRAIL mission, which sent twin satellites to map the moon's gravity. On December 17, 2012, the two GRAIL probes, Ebb and Flow, were directed to complete their mission by crashing on an unnamed lunar mountain near the crater Goldschmidt. NASA announced that it was naming the landing site in honor of Sally Ride.
In 2013, the Space Foundation bestowed its highest honor, the General James E. Hill Lifetime Space Achievement Award, on Sally Ride
On May 20, 2013, a National Tribute to Sally Ride was held at the Kennedy Center for the Performing Arts in Washington, D.C. On the same day, President Barack Obama announced that Ride would receive the Presidential Medal of Freedom, the highest civilian award in the United States. The medal was presented to Ride's family in a ceremony at the
White House
on November 20, 2013
courtesy of http://en.wikipedia.org/wiki/Sally_Ride

back to (s)Hero profiles

---