Sheryl Sandberg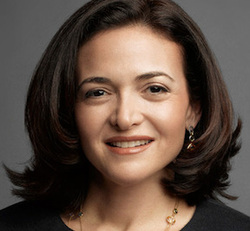 Sheryl Kara Sandberg
(born August 28, 1969) is an American businesswoman. As of August 2013, she is the
chief operating officer
of
Facebook
. In June 2012, she was also elected to the board of directors by the existing board members, becoming the first woman to serve on Facebook's board. Before Facebook, Sandberg was
Vice President
of Global Online Sales and Operations at
Google
, and was involved in launching Google's philanthropic arm
Google.org
. Before Google, Sandberg served as
chief of staff
for the
United States Secretary of the Treasury
.
In 2012 she was named in the
Time 100
, an annual list of the 100 most influential people in the world according to
Time
magazine. As of August 2013, Sandberg is reported to be worth
US$
400 million, due to her stock holdings in Facebook and other companies.
Sandberg was born in 1969, in
Washington, D.C.
, in a
Jewish
family, the daughter of Adele (née Einhorn) and Joel Sandberg, and the oldest of three siblings. Her father is an ophthalmologist, and her mother has a PhD and worked as a French teacher before concentrating on raising her children. Her family moved to
North Miami Beach
, Florida, when she was two years old. She attended public school, where she was "always at the top of her class." Sandberg taught aerobics in the 1980s while in high school.
In 1987, Sandberg enrolled at
Harvard College
and graduated in 1991
summa cum laude
with an
A.B.
in
economics
and was awarded the John H. Williams Prize for the top graduating student in economics. While at Harvard, Sandberg met then-professor
Larry Summers
who became her mentor and thesis adviser. Summers recruited her to be his research assistant at the
World Bank
, where she worked for approximately one year on health projects in India dealing with leprosy, AIDS, and blindness.
In 1993, she enrolled at
Harvard Business School
and in 1995 she earned her
M.B.A.
with highest distinction
After graduating from business school in the spring of 1995, Sandberg worked as a
management consultant
for
McKinsey & Company
for approximately one year (1995-96.). From 1996 to 2001, Sandberg served as Chief of Staff to then United States Secretary of the Treasury
Larry Summers
under President
Bill Clinton
where she helped lead the Treasury's work on forgiving debt in the developing world during the Asian financial crisis. She joined Google Inc. in 2001 and served as its Vice President of Global Online Sales & Operations, from November 2001 to March 2008. She was responsible for online sales of Google's advertising & publishing products and also for sales operations of Google's consumer products & Google Book Search.
Facebook In late 2007,
Mark Zuckerberg
, co-founder and chief executive of Facebook, met Sandberg at a Christmas party held by
Dan Rosensweig
; at the time, she was considering becoming a senior executive for
The Washington Post Company
. Zuckerberg had no formal search for a COO, but thought of Sandberg as "a perfect fit" for this role. They spent more time together in January 2008 at the
World Economic Forum
in
Davos
, Switzerland, and in March 2008, Facebook announced hiring Sheryl Sandberg away from Google.
After joining the company, Sandberg quickly began trying to figure out how to make Facebook profitable. Before she joined, the company was "primarily interested in building a really cool site; profits, they assumed, would follow." By late spring, Facebook's leadership had agreed to rely on advertising, "with the ads discreetly presented"; by 2010, Facebook became profitable. According to Facebook, Sandberg oversees the firm's business operations including
sales
,
marketing
,
business development
,
human resources
,
public policy
and
communications
.
Sandberg's executive compensation for FY 2011 was $300,000 base salary plus $30,491,613 in FB shares. According to her
Form 3
, she also owns 38,122,000
stock options
and
restricted stock units
(worth approx. $1.45 billion as of mid-May 2012) that will be completely vested by May 2022, subject to her continued employment through the vesting date.
In 2012 she became the eighth member (and the first female member) of Facebook's board of directors.
In October 2012, Business Insider reported that stock units (appx. 34 million) vested in Sandberg's name accounted for nearly US$790,000,000. Facebook withheld roughly 15 million of those stocks for tax reasons, leaving Sandberg with nearly US$417,000,000.
The media reported on August 12, 2013 that Sandberg sold 2.4m shares in the company worth US$91 million (£51 million)—5 percent of her total stake in the company.
Sheryl Sandberg released her first book,
Lean In: Women, Work and the Will to Lead
, co-authored by
Nell Scovell
and published by
Knopf
on March 11, 2013. As of the fall of 2013, The book sold more than one million copies and was on top of the bestseller lists since its launch.
Lean In
is a book for professional women to help them achieve their career goals and for men who want to contribute to a more equitable society. The book looks at the barriers preventing women from taking leadership roles in the workplace, barriers such as discrimination, blatant and subtle sexism and sexual harassment. She also examines societal barriers such as the fact that women still work the double day and the devaluing of work inside the home as opposed to work outside the home. Along with the latter there are the barriers that women create for themselves through internalizing systematic discrimination and societal
gender roles
. Sandberg argues that in order for change to happen women need to break down these societal and personal barriers by striving for and achieving leadership roles. The ultimate goal is to encourage women to lean in to positions of leadership because she asserts that by having more female voices in positions of power there will be more equitable opportunities created for everyone.
courtesy of
http://en.wikipedia.org/wiki/Sheryl_Sandberg
www.leanin.org
return to (s)Hero Profiles
---