Wendy Davis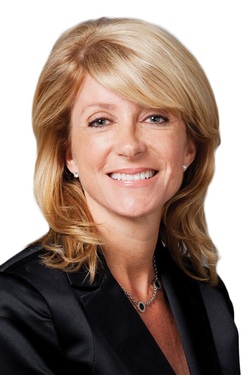 Wendy Russell was born in
West Warwick
,
Rhode Island
, and moved to Fort Worth with her family at age 11. Her father, Jerry Russell, was a local actor and director who founded the Stage West Theatre in Fort Worth in 1979. Her parents divorced at that time, leaving her to be raised by a single mother, Virginia, with a sixth-grade education who had to raise four children without any child support. Russell's mother worked at a
Braum's
ice cream shop to support her family.
Russell began working at age 14, first by selling newspaper subscriptions to
The Fort Worth Star-Telegram
, then working at an
Orange Julius
in a shopping-mall food court and later by waitressing at a restaurant. She married shortly after graduating from high school and had a daughter named Amber. A year into the marriage, Russell was divorced, becoming a single mother living in a
trailer park
.
After learning about a two-year
paralegal
program from a co-worker, Russell enrolled at
Tarrant County Junior College
and later transferred to
Texas Christian University
on a full scholarship, where she graduated first in her class with a Bachelor of Arts degree in English.
Before and during college, Russell worked as a waitress at the Stage West Theatre café four nights a week while working as a receptionist in a pediatrician's office in the morning.
After becoming the first person in her family to graduate from college, Davis went on to earn her
law degree
with honors from
Harvard Law School
in May 1993. She was admitted to the State Bar of Texas in November 1993.
She had her second child with then husband Fort Worth lawyer Jeff Davis, whom she divorced in 2005.
Early in her law career Davis served in a federal clerkship under U.S. District Judge
Jerry Buchmeyer
. In 1994, she joined the Fort Worth office of Haynes & Boone and began practicing specialized litigation. She later became part owner of
Safeco
Title Co. and is a former executive of Republic Title, of Fort Worth, Texas. Davis joined Cantey Hanger in an
Of Counsel
role and partnered with Brian Newby to open Newby Davis, PLLC in 2010. Her current practice includes federal and local governmental affairs, litigation, economic development, contract compliance and real estate matters.
Davis was first elected to the
Fort Worth
city council
in 1999. She was re-elected in 2001, 2003, 2005 and 2007. During her nine-year tenure as a Councilmember, Davis focused on transportation, economic development and neighborhood issues. She also spearheaded economic development projects, such as the
Montgomery Plaza
renovation, the Tower,
Pier One
and
Radio Shack
campuses.
Davis represents
Texas Senate, District 10
, which includes portions of
Tarrant County, Texas
. In 2008, she defeated
Republican
Kim Brimer
for the seat. She was re-elected in 2012, defeating a challenge from Mark Shelton, a Fort Worth
pediatrician
and Republican member of the
Texas House of Representatives
. Davis is the Vice-Chair on the Senate Select Committee on Open Government. She is also a Member of the Senate Committee on Economic Development, the Senate Committee on Transportation, and the Veteran Affairs and Military Installations Committee. She previously served on the Senate Committee for Education and as Vice-Chair on the Senate Committee on International Relations and Trade.
On May 29, 2011, Davis launched a
filibuster
of a budget bill that cut $4 billion from public education in the state, resulting in a special session called by Texas Gov.
Rick Perry
.
Davis has been honored with many awards and recognitions during her first term in the
Texas Legislature
, including the "Bold Woman Award" from
Girls, Inc.
, "Freshman of the Year" from
AARP
, "Champion for Children Award" from the Equity Center, and "Texas Women's Health Champion Award" from the Texas Association of OB-GYNs. In 2009,
Texas Monthly
named her "Rookie of the Year". She was also chosen by the readers of
Fort Worth Weekly
as the "Best Servant of the People". In January 2012, Davis was listed among "12 State Legislators to Watch in 2012" by
Governing Magazine
and was mentioned as a possible candidate for statewide races.
Early in the
83rd Session
, senators drew for terms in a post-redistricting, once-a-decade process. Davis drew a two-year term and will be up for re-election in November 2014. In March 2013, she announced her intention to run for re-election to the Senate.
Upon examining Davis' voting record over her three terms in the Texas Senate, Mark P. Jones, the Chairman of the Department of Political Science at
Rice University
, found that Davis was the fourth-most liberal senator out of the "23 senators who served in all three periods and the eight who served in two of them". Jones found that she was "significantly more liberal" than
John Whitmire
,
Juan Hinojosa
,
Carlos Uresti
, and
Eddie Lucio, Jr.
, who represent the centrist wing of the Texas Senate Democrats, "significantly more conservative" than
José R. Rodríguez
, the most liberal Texas Senate Democrat, and "statistically indistinguishable" from the other six Texas Senate Democrat
On June 25, 2013, Davis began a
filibuster
to block the
Senate Bill 5
, "the bill would ban abortions after 20 weeks of pregnancy, require abortion clinics to meet the same standards that hospital-style surgical centers do, and mandate that a doctor who performs abortions have admitting privileges at a nearby hospital." She attempted to maintain the floor until midnight, when the Senate's special session ended, after which the state Senate would no longer be able to vote on the measure. Following an 11-hour filibuster – three hours short of midnight – Lieutenant Governor
David Dewhurst
ruled that Davis had gone off topic, forcing a vote on whether the filibuster could continue. Despite Republican efforts, parliamentary inquiries from
Leticia R. Van de Putte
and others as well as raucous cheering and yelling from the political activists gathered in the Capitol carried on through midnight and the close of the special session. Following the deadline, Republicans indicated that a vote had taken place and passed, while Democrats declared that the vote had taken place after midnight, making it void. Dewhurst later conceded that the bill was dead. On the 26th, Governor
Rick Perry
added the bill as part of three bills in a second special session to be debated again. The bill was eventually passed by both the House and the Senate in the July 2013 second special session, prompting one commentator to state that "Wendy Davis won the battle, but
Rick Perry
won the war." The bill was signed by Gov. Rick Perry on July 18, 2013.
The filibuster attracted national attention, including in
Politico
and
Breitbart
. National fundraising by and speculation about a gubernatorial run for Davis also followed. Davis has been encouraged to run by groups like
Battleground Texas
and Emily's List.
courtesy of
http://en.wikipedia.org/wiki/Wendy_Davis_%28politician%29
back to (s)Hero profiles
---