Gloria Steinem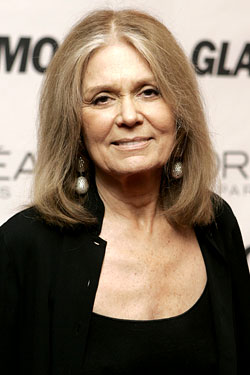 Gloria Marie Steinem
(born March 25, 1934) is an American
feminist
,
journalist
, and social and political
activist
who became nationally recognized as a leader of, and media
spokeswoman
for, the
women's liberation movement
in the late 1960s and 1970s. A prominent writer and key
counterculture era
political figure, Steinem has founded many organizations and projects and has been the recipient of many awards and honors. She was a columnist for
New York
magazine and co-founded
Ms.
magazine. In 1969, she published an article, "After Black Power, Women's Liberation", which, along with her early support of abortion rights, catapulted her to national fame as a feminist leader.
In 2005, Steinem worked alongside
Jane Fonda
and
Robin Morgan
to co-found the
Women's Media Center
, an organization that works to amplify the voices of women in the media through advocacy, media and leadership training, and the creation of original content. Steinem currently serves on the board of the organization. She continues to involve herself in politics and media affairs as a commentator, writer, lecturer, and organizer, campaigning for candidates and reforms and publishing books and articles.
Steinem actively campaigned for the Equal Rights Amendment, in addition to other laws and social reforms that promoted equality between women and men, helping to strike down many long-standing sex discriminatory laws, such as those that gave men superior rights in marriage and denied women equal economic opportunities. She testified before the Senate Judiciary Committee in favor of the Equal Rights Amendment in 1970.
She also founded and co-founded many groups, including the Women's Action Alliance, on which she served as chair of the board throughout the 1970s; the NWPC, the Coalition of Labor Union Women; the Ms. Foundation for Women; Choice USA; and Women's Media Center. From 1971 to 1975, she served on the Advisory Board of the Westbeth Playwrights Feminist Collective—one of the first NYC public based feminist theater groups.
In 1968, she signed the "War Tax Protest" pledge, vowing to refuse tax payments in protest against the Vietnam War.
After conducting a series of celebrity interviews, Steinem eventually got a political assignment covering George McGovern's presidential campaign. In 1969, she published an article, "After Black Power, Women's Liberation"
which, along with her early support of abortion rights, catapulted her to national fame as a feminist leader. Steinem brought other notable feminists to the fore and toured the country with lawyer Florynce Rae "Flo" Kennedy, child-welfare pioneer Dorothy Pitman Hughes, and National Black Feminist Organization founder Margaret Sloan-Hunter.
In 1970 Gloria Steinem established herself as a leader of the Women's Movement with her impassioned Senate testimony in favor of the Equal Rights Amendment and her essay on a utopia of equality,
"What It Would Be Like If Women Win"
, in
Time
magazine. While Steinem would clash with both the older generation of women's rights leaders, most prominently Betty Friedan, as well as the younger, more militant Women's Liberation activists, she would gain a large, diverse, and multi-partisan following and become, alongside Friedan, the Women's Rights Movement's most prominent and influential spokesperson and leader. In 1970 she led the New York City march of the nation-wide Women's Strike for Equality alongside Friedan and then-Congressional candidate Bella Abzug. By then an icon of the Feminist Movement, Steinem frequently appeared on news shows, television talk shows and specials, and on the covers of newspapers and magazines such as
Newsweek
,
Time
,
McCall's
,
People
,
New Woman
,
Ms.
, and
Parade
. In the early 1970s, with Canadian broadcaster Patrick Watson, she co-hosted a celebrity interview series,
Face To Face To Face
on the newly founded Global Television Network in Canada.
On July 10, 1971, Steinem, along with other feminist leaders (including Betty Friedan, Fannie Lou Hamer, Myrlie Evers, and several U.S. Representatives, including Shirley Chisholm and Bella Abzug) founded the National Women's Political Caucus (NWPC). An influential co-convener of the Caucus, she delivered her memorable "Address to the Women of America":
This is no simple reform. It really is a revolution. Sex and race because they are easy and visible differences have been the primary ways of organizing human beings into superior and inferior groups and into the cheap labor on which this system still depends. We are talking about a society in which there will be no roles other than those chosen or those earned. We are really talking about humanism.
In 1972, she also played a prominent role at the Democratic National Convention where she supported Shirley Chisholm's candidacy. That year Steinem and the NWPC had successfully organized bipartisan efforts to increase the representation of women at both major party conventions. In the early 1970s Steinem became the first woman to address the National Press Club.
In May 1975, Redstockings, a radical feminist group, raised the question of whether Steinem had continuing ties with the Central Intelligence Agency (CIA). Though she admitted to having worked for a CIA-financed foundation in the late 1950s and early 1960s, Steinem denied any continuing involvement.
Steinem was also a member of Democratic Socialists of America.
In 1984 Steinem was arrested along with a number of members of Congress and civil rights activists for disorderly conduct outside the South African embassy while protesting against the South African apartheid system.
Steinem co-founded the Coalition of Labor Union Women in 1974, and participated in the National Conference of Women in Houston, Texas, in 1977. She became
Ms.
magazine's consulting editor when it was revived in 1991, and she was inducted into the National Women's Hall of Fame in 1993.
Steinem played a variety of roles within the Women's Action Alliance, whose initial mission was "to stimulate and assist women at the local level to organize around specific action projects aimed at eliminating concrete manifestations of economic and social discrimination.".
She chaired the board from 1971–1978.
Steinem was active in working for civil rights for African Americans, Hispanics, and other minorities, working alongside civil rights leaders like Coretta Scott King and César Chávez, and took a public stance in opposition to the Vietnam War and in favor of gay rights.
"I think the fact that I've become a symbol for the women's movement is somewhat accidental. A woman member of Congress, for example, might be identified as a member of Congress; it doesn't mean she's any less of a feminist but she's identified by her nearest male analog. Well, I don't have a male analog so the press has to identify me with the movement. I suppose I could be referred to as a journalist, but because Ms. is part of a movement and not just a typical magazine, I'm more likely to be identified with the movement. There's no other slot to put me in."
In later years, Steinem became an outspoken supporter of animal rights, writing letters to the National Institutes of Health Office of Research on Women's Health urging the office director to end the "cruelty, fraud, and waste" of NIH-funded experiments on animals purportedly conducted in the name of advancing women's health.
She also became involved in international women's issues such as the campaign against female genital mutilation in Eastern countries and human trafficking.
Contrary to popular belief, Steinem did not coin the feminist slogan "A woman needs a man like a fish needs a bicycle." Although she helped popularize it, the phrase is actually attributable to Irina Dunn.
When
Time
magazine published an article attributing the saying to Steinem, Steinem wrote a letter saying the phrase had been coined by Dunn.
Another phrase sometimes wrongly attributed to Steinem is, "If men could get pregnant, abortion would be a sacrament." Steinem herself attributed it to "an old Irish woman taxi driver in Boston," who she said she and Florynce Kennedy met.
courtesy of Wikipedia

back to (s)Hero profiles
---