(s)Hero

1. A woman or man who supports women's rights and respects women's issues

2. Female hero

Mission Statement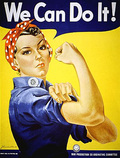 Who's Your (s)Hero is a non profit organization that aims to inspire and mentor girls to become successful, happy, and confident women. We shine a light on women who are leaders in their
fields, both past and present. We focus on women who have pushed past boundaries,
soared to new heights, and those who have broken through the glass ceiling.
Through education, sponsorship, and mentoring, (S)Heroes unites women with the
opportunity and access to become tomorrows leaders.

Who's Your (s)Hero provides a data base of all kinds of inspirational women. We want to highlight cool and smart women who have done great things, who are changing the world today and are helping to inspire a new generation of women who will go even further.

Through our mentoring program, we help young women entering the work force, feel more confident and prepared. Having an experienced women to ask questions and advice from can help new career women go further and be more successful, especially in fields that where women are not always the majority.

As mentors take on multiple mentees, those girl create their own support group and can participate in our peer mentoring forum. By creating a culture of successful supportive career women, we can change career standards, demanding fair and equal wages for all and family leave for anyone. As the generation shifts so does the mindset. This workplace mindset creates the opportunity for generation Y and the future to create what we have all been aiming for.

---