Madonna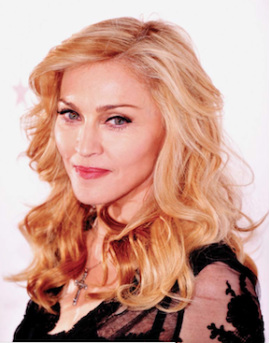 Madonna Louise Ciccone
, born August 16, 1958) is an American singer-songwriter, actress, author, director, entrepreneur and philanthropist. Born in
Bay City, Michigan
, she moved to New York City in 1977 to pursue a career in modern dance and performed in the music groups
Breakfast Club
and Emmy. In 1982, Madonna signed with
Sire Records
(an affiliate of
Warner Bros. Records
) and released her
self-titled debut album
the following year. She has since released a series of successful albums, including the
Grammy Award
winners
Ray of Light
(1998) and
Confessions on a Dance Floor
(2005). Many of her songs peaked atop record charts, including "
Like a Virgin
", "
Into the Groove
", "
Papa Don't Preach
", "
Like a Prayer
", "
Vogue
", "
Frozen
", "
Music
", "
Hung Up
", and "
4 Minutes
".
Madonna is known for continuously reinventing both her music and image, and for retaining a standard of autonomy within the recording industry. She attained immense popularity by pushing the boundaries of lyrical content in mainstream popular music and imagery in her
music videos
, which became a fixture on
MTV
. Critics have praised her diverse musical productions which have also been known to induce controversy.
Madonna received generally positive reviews for her role in
Desperately Seeking Susan
(1985), though her later film appearances received mixed commentary. She received critical acclaim and a
Golden Globe Award
for
Best Actress in Motion Picture Musical or Comedy
for
Evita
(1996), but has received harsh feedback for other performances. She has been recognized as an acclaimed businesswoman, involving herself in fashion design, writing children's books, and film directing and producing. In 1992, she founded entertainment company
Maverick
as a joint venture with
Time Warner
, which also included the label
Maverick Records
. In 2007, she signed a US $120 million record, touring and merchandising
360° deal
with
Live Nation
, resulting in her leaving Warner Bros., her label since 1982.
Madonna has sold more than 300 million records worldwide and is recognized as the
best-selling female recording artist of all time
by
Guinness World Records
.
Time
considered her to be one of the "25 Most Powerful Women of the Past Century" for being an influential figure in
contemporary music
. Madonna is the best-selling female rock artist of the 20th century and
the second best selling female artist in the United States
, with 64.5 million
certified
albums. Considered by
Forbes
and other publications as a
cultural icon
, she is often referred by the international press as the "
Queen of Pop
". In 2008,
Billboard
ranked her at number two, behind only
The Beatles
, on the
Billboard Hot 100 All-Time Top Artists
, making her the most successful solo artist in the history of the chart. She was also inducted into the
Rock and Roll Hall of Fame
in the same year. In 2012, she was crowned the "Greatest Woman In Music" by
VH1
. As of 2013, some sources report that Madonna's net worth has crossed over one billion dollars.
Forbes
magazine named Madonna the fifth most powerful and the highest earning celebrity of 2013 with net earnings of $125 million between June 2012–13.
According to
CNN
, Madonna is "arguably the most influential female recording artist of all time." Critical theorist
Douglas Kellner
described her as "a highly influential pop culture icon" and "the most discussed female singer in popular music." Bill Wyman, editor of
Chicago Reader
, describes Madonna as a "genuinely freakish figure in popular music."
Marcel Danesi
commented that "perhaps no one has understood the ambiguity of pop culture with regard to womanhood more that Madonna." William Langley from
The Daily Telegraph
noted that Madonna "remains a permanent fixture on every list of world's most powerful/admired/influential women." She is featured in the book
100 Most Important Women of the 20th Century
, published in 1998 by
Ladies' Home Journal
. In 2010,
Time
magazine included Madonna in the elite list of the "25 Most Powerful Women of the Past Century", where she became one of the only two singers included, alongside
Aretha Franklin
. Additionally, Madonna has been as ranked 49th on the "75 Greatest Women of All Time" by
Esquire
magazine.
Madonna also topped
VH1
's countdowns of "100 Greatest Women in Music" and "50 Greatest Women of the Video Era". She was inducted into the
Rock and Roll Hall of Fame
on March 10, 2008—her first year of eligibility—for "influence and significance on rock and roll music". Additionally, Madonna ranked seventh on VH1 and
People
magazine's list of the "200 Greatest Pop Culture Icons of All Time", as well topped in the list of the British tabloid
The Sun
, "The 50 female singers who will never be forgotten." She has also been included in several lists, like the "100 Greatest Artists" of
Rolling Stone
. Madonna has sold more than 300 million records worldwide. Her worldwide commercial accomplishments have given her multiple
Guinness World Records
citations, including the title for the
world's top-selling female recording artist of all time
. According to the
Recording Industry Association of America
(RIAA), she is the best-selling female rock artist of the 20th century and the second
top-selling female albums artist in the United States
, with 64.5 million
certified
albums.
In 2008,
Billboard
magazine ranked Madonna at number two, behind only
The Beatles
, on the
Billboard Hot 100 All-Time Top Artists
, making her the most successful solo artist in the history of American singles chart.
Billboard
editor Keith Caulfield declared in 2012: "She's the
Queen of Pop
and 'royalty on the
Billboard charts
'." In 2011,
Rolling Stone
declared her as the all-time
Queen of Pop
and stated that "Madonna is a musical icon without peer."
Rolling Stone
of Spain wrote that "She became the first viral Master of Pop on history, years before the Internet was massively used." Madonna was everywhere; in the almighty music television channels, 'radio formulas', magazine covers and even in bookshops. A pop dialectic, never seen since The Beatles's reign, which allowed her to keep on the edge of tendency and commerciality". Within this theme, Laura Barcella in her book
Madonna and Me: Women Writers on the Queen of Pop
(2012) wrote that "really, Madonna changed everything the musical landscape, the '80s look
du jour
, and most significantly, what a mainstream female pop star could (and couldn't) say, do, or accomplish in the public eye."
Madonna during her
Sticky & Sweet Tour
, the second highest-grossing tour of all time by a solo artist According to
Forbes
and other publications, "Madonna is a
cultural icon
, and undoubtedly one of the most successful entertainers of all time." In the book series
Madonna Style
from
Omnibus Press
, author Carol Clerk wrote that "during her career, Madonna has transcended the term '
pop star
' to become a global cultural icon."
Rodrigo Fresán
commented: "Saying that Madonna just is a pop star is as inappropriate as saying that
Coca-Cola
is just a
soda
. Madonna is one of the classic symbols of '
Made in USA
'." Journalist and politician
Sergio Fajardo
felt that Madonna "is a very powerful symbol". Professor Belén González Morales of the
Autonomous University of Barcelona
commented that "'the infinite dissection' of Madonna is like a body
paradigmatic
of the global age that emanating a tremendous amount of meanings... Madonna has been become an
cultural artifact
and the object of desire and a queer icon.
In 1990,
Jon Pareles
said: "Don't think of Madonna as one more singer clawing her way up the pop charts. Think of her, instead, as a continuous multi-media art project dedicated to examining notions of glamour and success, and the limits of mainstream sexuality." William Langley from
The Daily Telegraph
felt that "Madonna has changed the world's
social history
, has done more things as more different people than anyone else is ever likely to." As Pareles and Langley, music blogger
Alan McGee
from
The Guardian
felt that Madonna is post-modern art, the likes of which we will never see again. He further asserted that Madonna and Michael Jackson invented the terms Queen and King of Pop. Professor John R. May in his book
The New Image of Religious Film
(1997) concluded that Madonna is a contemporary "
gesamtkunstwerk
".
Strawberry Saroyan
stated: "You can separate Madonna's music, her image, her media antics, but why would you? To me, she's a storyteller, a cultural pioneer, and the important thing is her message — via music, videos, antics, whatever. And all of those things have been brilliantly of a piece. Madonna's ability to take her message beyond music and impact women's lives has been her legacy."
Caryn Ganz from
Rolling Stone
wrote that "Madonna is the most media-savvy American pop star since
Bob Dylan
and, until she toned down her press-baiting behavior in the nineties, she was the most consistently controversial one since
Elvis Presley
."
Stephen Thomas Erlewine
felt that "one of Madonna's greatest achievements is how she has manipulated the media and the public with her music, her videos, her publicity, and her sexuality." He added that "Madonna was the first female pop star to have complete control of her music and image." Becky Johnston from
Interview
magazine commented: "[F]ew public figures are such wizards at manipulating the press and cultivating publicity as Madonna is. She has always been a great tease with journalists, brash and outspoken when the occasion demanded it, recalcitrant and taciturn when it came time to pull back and slow down the striptease."
Throughout her career, Madonna has repeatedly reinvented herself through a series of visual and musical personae. According to professors Peter L. Rudnytsky and Andrew M. Gordon in
Psychoanalyses: Feminisms
"many critics laud her continual reinvention of self. They agrees that "this is one of Madonna's cultural meanings". Fouz-Hernández agrees that this re-invention is one of her key cultural achievements. Madonna reinvented herself by working with upcoming talented producers and previously unknown artists, while remaining at the center of media attention. According to Freya Jarman-Ivens, "In doing so Madonna has provided an example of how to maintain one's career in the entertainment industry." Such reinvention was noted by scholars as the main tool in surviving the musical industry, for a female artist. Bradley Jacobs from
Us Weekly
said: "What new idea has
Cher
come up with?
Michael Jackson
started out at the same time, and they're like apples and oranges. Overall, Madonna has always succeeded by staying ahead of curve." Luchina Fisher from
ABC News
commented: "One thing you can say about Madonna: She's unpredictable.... has had more incarnations than the Dalai Lama."
Robin Crow
felt that there's no one of in recent history who has mastered the art of reinvention like Madonna.
The New York Times
critic
Kelefa Sanneh
commented: "When you imagine Madonna, you don't see a single image but a time-lapse photograph, with one persona melting and warping into the next. It's an open-ended process, and when she's at her brilliant best, it's easy to believe that she could keep reinventing herself forever."
Cultural critic
Annalee Newitz
felt that Madonna has given to
American culture
, and culture throughout the world, is not a collection of songs; rather, it is a collection of images.
Grady T. Turner, curator of
Museum of Sex
commented: "'I learned, like most people, not to rule anything out when it comes to her reinventions of herself".
Madonna's use of shocking sexual imagery has benefited her career and catalyzed public discourse on sexuality and feminism. As Roger Chapman documents in
Culture Wars: An Encyclopedia of Issues, Viewpoints, and Voices, Volume 1
(2010), she has drawn frequent condemnation from religious organizations, social conservatives and parental watchdog groups for her use of explicit sexual imagery and lyrics, religious symbolism, and otherwise "irreverent" behavior in her live performances. Professor
John Fiske
noted that the sense of empowerment that Madonna offers is inextricably connected with the pleasure of exerting some control over the meanings of self, of sexuality, and of one's social relations. According to
Andrew O'Hagan
many cultural commentators and academics look on Madonna as a heroic opponent of the American establishment's cultural and political authoritarianism. In
Doing Gender in Media, Art and Culture
(2009) from the publisher
Routledge
, the authors noted that the fact that Madonna, as a female celebrity, performer, and pop icon, is able to unsettle standing feminist reflections and debates is far more interesting.
The Times
stated: "Madonna, whether you like her or not, started a revolution amongst women in music ... Her attitudes and opinions on sex, nudity, style and sexuality forced the public to sit up and take notice."
Shmuel Boteach, author of
Hating Women
(2005), felt that Madonna was largely responsible for erasing the line between music and pornography. He stated: "Before Madonna, it was possible for women more famous for their voices than their cleavage to emerge as music superstars. But in the post-Madonna universe, even highly original performers such as
Janet Jackson
now feel the pressure to expose their bodies on national television to sell albums."
According to
lesbian feminist
Sheila Jeffreys
, Madonna represents woman's occupancy of what
Monique Wittig
calls the category of sex, as powerful, and appears to gleefully embrace the performance of the sexual corvée allotted to women. Professor
Sut Jhally
felt that "Madonna is as an almost sacred feminist icon." Professor
Camille Paglia
from
University of the Arts
called Madonna a "true feminist" and noted that "she exposes the puritanism and suffocating ideology of American feminism, which is stuck in an adolescent whining mode." According to her, "Madonna has taught young women to be fully female and sexual while still exercising total control over their lives." Madonna defended herself as a feminist in 2008, saying that though she "may be dressing like the typical bimbo", she is in charge of her own life and career.
[A] quarter century after Madonna emerged, artists still use her ideas and seem modern and edgy doing so. Beyond the obvious Madonna wannabe 1980s singers, Madonna's influence is felt in artists from Gwen Stefani to Britney Spears to boy bands, who found in the 1990s there was an audience beyond the old rock crowd... It's worth noting that before Madonna, most music mega-stars were guy rockers; after her, almost all would be female singers... When The Beatles hit America, they changed the paradigm of performer from solo act to band. Madonna changed it back—with an emphasis on the female.
—Tony Sclafani from
MSNBC
about Madonna's impact in music. According to the company
Telcel
"since her appearance on the music scene in 1983, no artist has called more the attention that Madonna... has pushed the boundaries of the world of music, film and fashion."
RTL Television
Belgium said that "Madonna is a key figure in the music".
Erik Thompson from
City Pages
stated that "in the early '80s, Madonna broke down a lot of the industry doors that young entertainers stride through so brashly and confidently these days."
According to Fouz-Hernández, female pop performers such as
Britney Spears
,
Christina Aguilera
,
Kylie Minogue
,
Spice Girls
,
Destiny's Child
,
Jennifer Lopez
and
Pink
were like "Madonna's daughters in the very direct sense that they grew up listening to and admiring Madonna, and decided they wanted to be like her."
Howard Kramer, curatorial director of the Rock and Roll Hall of Fame and Museum, commented: "Today's more-flamboyant female pop stars enjoy the freedom to make music and perform the way they do, but they didn't create that freedom. Madonna did the moving and shaking when she burst onto the pop-music charts in the early '80s." He further asserted that "Madonna and the career she carved out for herself made possible virtually every other female pop singer to follow... She certainly raised the standards of all of them... She redefined what the parameters were for female performers."
Billboard
editor M. Tye Comer stated: "Although Madonna had her influences, such as
David Bowie
, she created her own unmistakable style... She wrote her own ticket; she didn't have to follow anybody's formula. She declared who she was ... and took possession of her music."
Madonna has received acclaim as a role model for businesswomen in her industry, "achieving the kind of financial control that women had long fought for within the industry", and generating over $1.2 billion in sales within the first decade of her career.
After she established her own label, Maverick Records, in the 1990s it became a major commercial success from her efforts, which was unusual at that time for an artist-established label.
Michelle Goldberg
said that "one thing that's always interested me about Madonna is that she's often praised as a brilliant businesswoman". She further asserted that "
Andy Warhol
did an enormous amount to change that idea in highbrow circles, but Madonna made it conventional wisdom to conflate art and commerce. She pioneered this kind of multimedia, 'life as performance art'."
As Goldberg,
Strawberry Saroyan
noted that "Madonna is a brilliant businesswoman and her legacy is partly that she morphs commerce and art." Professor Colin Barrow of the
Cranfield School of Management
described Madonna as "America's smartest businesswoman ... who has moved to the top of her industry and stayed there by constantly reinventing herself". He held up her "planning, personal discipline and constant attention to detail" as models for all aspiring entrepreneurs.
In 1990, with more than $125 million since 1986 and as the highest-grossing woman in entertainment,
Forbes
"suggested that she was one of the smartest businesswomen in the United States".
London Business School
academics called her a "dynamic entrepreneur" worth copying; they identified her vision of success, her understanding of the music industry, her ability to recognize her own performance limits (and thus bring in help), her willingness to work hard and her ability to adapt as the keys to her commercial success.
Morton commented that "Madonna is opportunistic, manipulative and ruthless—somebody who won't stop until she gets what she wants—and that's something you can get at the expense of maybe losing your close ones. But that hardly mattered to her." Taraborrelli felt that this ruthlessness was visible during the shooting of the Pepsi commercial in 1989. "The fact that she didn't want to hold a Pepsi can in the commercial, clued the Pepsi executives that Madonna the pop star and Madonna the businesswoman were not going to be dictated by somebody else, she will do everything in her way—the only way."
Hazel Blackmore and Rafael Fernández de Castro in the book
¿Qué es Estados Unidos?
from the
Fondo de Cultura Económica
, noted that: "Madonna has been undoubtedly the most important woman in the history of popular music and a great businesswoman in herself; creating fashion, breaking taboos and provoking controversies."
courtesy of
http://en.wikipedia.org/wiki/Madonna_%28entertainer%29
return to (s)Hero Profiles
---