Jessica Alba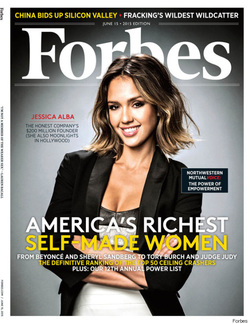 Jessica Marie Alba (born April 28, 1981) is an American actress, model, and businesswoman. She began her television and movie appearances at age 13 in Camp Nowhere and The Secret World of Alex Mack (1994). Alba rose to prominence as the lead actress in the James Cameron television series Dark Angel (2000–2002) when she was 19 years old.

Alba later appeared in Honey (2003), Sin City (2005), Fantastic Four (2005), Into the Blue (2005), Fantastic Four: Rise of the Silver Surfer (2007) and Good Luck Chuck (2007).

Alba has been called a sex symbol. She appears on the "Hot 100" section of Maxim and was voted number one on AskMen.com's list of "99 Most Desirable Women" in 2006, as well as "Sexiest Woman in the World" by FHM in 2007. In 2005, TV Guide ranked her number 45 on its "50 Sexiest Stars of All Time" list. The use of her image on the cover of the March 2006 Playboy sparked a lawsuit by her, which was later dropped. She has also won various awards for her acting, including the Choice Actress Teen Choice Award and Saturn Award for Best Actress on Television, and a Golden Globe nomination for her lead role in the television series Dark Angel.

In 2010, Alba starred in five films. She played Joyce Lakeland, a prostitute in The Killer Inside Me, film adaption of the book of the same name which co-starred Kate Hudson and Casey Affleck. The film premiered at the Sundance Film Festival. Her second film of the year was the hit romantic comedy Valentine's Day, directed by Garry Marshall. She portrayed Ashton Kutcher's girlfriend, Morley Clarkson, in the ensemble film that included Julia Roberts, Anne Hathaway, Jessica Biel, Bradley Cooper, and Jennifer Garner, among others. It was released on February 12, 2010. Later in the year, she appeared in action film Machete, in An Invisible Sign of My Own and in Little Fockers, reuniting with Robert De Niro who was also in Machete. In August 2010, it was announced that Alba would appear in Spy Kids 4. The film was released a year later.

In January 2012, Alba and business partner Chris Gavigan launched The Honest Company, a collection of toxin-free household goods, diapers, and body care products. The company is currently valued at $1 billion. In March 2012, Alba announced that she will be releasing a book, The Honest Life, based on her experiences creating a natural, non-toxic life for her family. The book, slated for release in early 2013, will be published by Rodale.

Her 2013 projects include comedy A.C.O.D. and animated film Escape from Planet Earth. Alba reprised her roles, Santana in Machete's sequel Machete Kills, and Nancy Callahan in Sin City: A Dame to Kill For, the sequel to 2005's Sin City. Filming for the Sin City sequel started in October 2012 and the film was released in August 2014.



---