Ursula Burns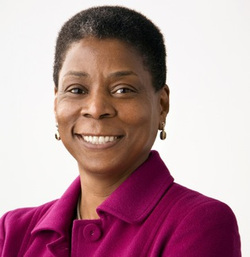 Ursula M. Burns (born September 20, 1958) serves as Chairman (since May 2010) and CEO (since July 2009) of Xerox. As such, she is the first black-American woman CEO to head a Fortune 500 company. She is also the first woman to succeed another woman as head of a Fortune 500 company, having succeeded Anne Mulcahy as CEO of Xerox. In 2014, Forbes rated her the 22nd most powerful woman in the world.

In 1980, Burns first worked for Xerox as a summer intern, permanently joining a year later, in 1981, after completing her master's degree. She worked in various roles in product development and planning in the remainder of the 1980s throughout her 20s

In January 1990, her career took an unexpected turn when Wayland Hicks, then a senior executive, offered Burns a job as his executive assistant. She accepted and worked for him for roughly nine months when she was ready to go back home because she was about to be married to Lloyd Bean. In June 1991, she became executive assistant to then chairman and chief executive Paul Allaire. In 1999, she was named vice president for global manufacturing.

In 2000, Burns was named a senior vice president and began working closely with soon to be CEO Anne Mulcahy, in what both women have described as a true partnership. Nine years later, in July 2009, she was named CEO, succeeding Mulcahy, who remained as chairman until May 2010.

In addition to the Xerox board, she is a board director of the American Express Corporation Exxon Mobil Corporation and Datto Inc. Burns also provides leadership counsel to community, educational and non-profit organizations including FIRST (For Inspiration and Recognition of Science and Technology), National Academy Foundation, MIT, and the U.S. Olympic Committee, among others. She is a founding board director of Change the Equation, which focuses on improving the U.S.'s education system in science, technology, engineering and math (STEM). In March 2010, U.S. President Barack Obama appointed Burns vice chair of the President's Export Council.

Burns has served on numerous professional and community boards, including Exxon Mobil Corporation, American Express, Boston Scientific, FIRST, National Association of Manufacturers, University of Rochester, the MIT Corporation, the Rochester Business Alliance, and the RUMP Group. She had been serving as Vice Chairwoman of the Executive Committee of The Business Council between 2013 and 2014. In addition, she is also among the founding Board Directors of Change the Equation, which is an organization that focuses on improving STEM-based education in the United States.

She was the Commencement speaker at MIT's 2011 Commencement, which was also the conclusion of MIT's 150th anniversary celebration. She delivered the 2011 Commencement address at the University of Rochester. She was the 2012 Commencement speaker for Xavier University of Louisiana's May 12 Commencement ceremony, where she also received an honorary degree, one of the institution's highest honors.



---